Paul Dresher: The Electro-Acoustic Band
The ensemble's performance, as ever, was a marvel of rhythmic and harmonic precision…." — Joshua Kosman, San Francisco Chronicle

"A stunning acoustical spectrum of sounds" — Kathleen Husler, American Theater Magazine

"[T]antalizing, strikingly original and immensely satisfying … taken together, the pieces gave an exciting glimpse into the lively state of new American music." — Octavio Roca, San Francisco Chronicle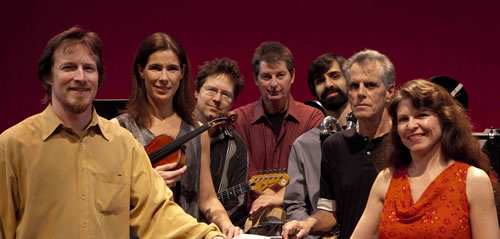 Unique among contemporary chamber ensembles, The Paul Dresher Ensemble Electro-Acoustic Band combines traditional acoustic instruments with the latest electronic sounds and instrumental technologies. With six versatile instrumentalists and a resident sound engineer, the Band can perform a challenging repertory of American music that defies traditional aesthetic boundaries and styles.
The Electro-Acoustic Band's permanent members are:
Jeff Anderle – clarinet/bass clarinet
Joel Davel – Marimba Lumina
Paul Dresher, electric guitar and bass
Brendan Aanes – Sound Engineer
Marja Mutru – keyboards
Karen Bentley Pollick – violin and viola
Gene Reffkin – electronic drums
John Schott – electric guitar
The Electro-Acoustic Band offers composers a vast array of contemporary sonorities and infinite performance possibilities. Further expanding the sonic potential of the group, well-known are often featured — pianist-composer Terry Riley, contemporary cellist Joan Jeanrenaud, pianist Lisa Moore, cellist Ashley Bathgate, and others — especially when premiering music that explores the visual or theatrical dimensions of contemporary performance.
Typically, at its annual home season concerts in San Francisco, the Electro-Acoustic Band premieres two or three newly commissioned pieces by such composers as John Adams, John Luther Adams, Sam Adams, Mark Applebaum, Eve Beglarian, Martin Bresnick, Ryan Brown, Jay Cloidt, Cindy Cox, Alvin Curran, Anthony Davis, Paul Dresher, Mark Grey, Bun Ching Lam, David Lang, Keeril Makan, Bruce Pennycook, Terry Riley, Roger Reynolds, Ayuo Takahashi, and many more. [Full list of commissions]
Many of our commissions have been played again by other ensembles across the US and internationally, including Present Music (Milwaukee), the London Sinfonietta, Seattle Chamber Players, the California EAR Unit, Opere Della Musica Povera, and special ensembles organized and recorded by the composers themselves. Scores and recordings of many of the Band's commissions are available online at the Paul Dresher Ensemble store.