Paul Dresher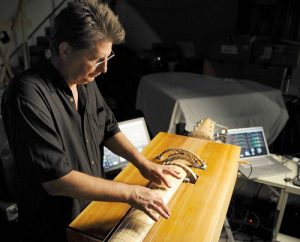 Paul Dresher is a multi-talented composer who is uniquely able to weave contemporary classical, pop, minimalist, and South and Southeast Asian musical styles together into his own distinctive personal style. He creates in a myriad of different genres, including experimental theater, contemporary opera, acoustic and electronic chamber music, orchestral compositions, dance scores, and musical instrument invention.
Recent pieces include Family Matters (2014) written for cellist Ashley Bathgate and pianist Lisa Moore; the Concerto for Quadrachord & Orchestra (2012, composed for Berkeley Symphony; Two Entwined (2011), a virtuosic piano solo commissioned by Sarah Cahill and premiered at the Spoleto Festival, and the solo percussion work Schick Machine (2009), created for percussionist Steven Schick and performed on a set huge invented musical instruments and sound sculptures. Paul's latest creation is Sound Maze (2015), a hands-on sound installation of twelve invented musical instruments that will begin touring across the United States in 2017.
Paul's many honors include a 2006-07 Guggenheim Fellowship and commissions from the Library of Congress, Saint Paul Chamber Orchestra, Spoleto Festival USA, the Kronos Quartet, the San Francisco Symphony, Zeitgeist, San Francisco Ballet, Chamber Music America, among others.
He is now at work on a second commission for Berkeley Symphony that will premiere this October. For the coming year, Paul will be creating a new multidisciplinary piece titled Molded by the Flow in collaboration with playwright Rinde Eckert and faculty and students at the University of Southern Maine, where Paul has been appointed USM Libra Professor for the 2016-17 academic year.