Residencies for the Time-based Arts
theater | performance · dance | movement · music |sound art | instrument invention, collaborations · interdisciplinary work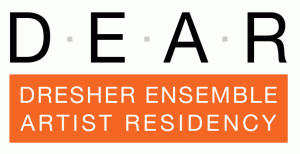 The Dresher Ensemble Artist Residency [D.E.A.R.] was established in 2012 to support Northern California artists who are actively exploring new aesthetic premises and pushing the boundaries of conventional art forms and media. The program provides early to mid-career artists free studio space and up-to-date equipment to create new work in the time-based arts such as theater/performance, dance/movement, music/sound art/instrument invention, as well as collaborative and interdisciplinary work. Occasionally, the program will also consider applications from more established artists whose work does not receive significant institutional support. (If you feel you fit into this category, please contact us before creating an application.)
D.E.A.R. grants 4 to 6 awards annually to individual artists or to groups of artists collaborating on a single project. The lead artist must be a resident of Northern California and must not be a student at the time of the application and residency.
What the Residency Provides
Each residency provides full-time access of 1 to 4 weeks in the Ensemble's West Oakland rehearsal studio (40′ x 45′ with sprung dance floor with Marley floor covering) and fabrication shop and our inventory of sound, lighting and projection equipment. Dresher Ensemble artistic, technical, and administrative offer free consultations on all aspects of production such as budgeting, scheduling, contracts, marketing, fundraising (providing fiscal sponsorship if needed) as well providing commentary on work in progress, consultations on performance technologies. Residency weeks may be contiguous or spread out over a period of months. We do not provide any housing.
SELECTION CRITERIA / PROGRAM PRIORITIES:
The artistic quality and potential impact of the project on the artist's artistic growth and their audiences;
Projects whose realization requires continuous and/or multi-day access to our studio space and our available technologies;
Artists who work with multiple disciplines and/or from culturally diverse perspectives;
Preference may be given to artists whose work is not currently receiving significant institutional support.