Upcoming Events / Performances
June 13 @ 7 pm Free Concert — With Friends Like These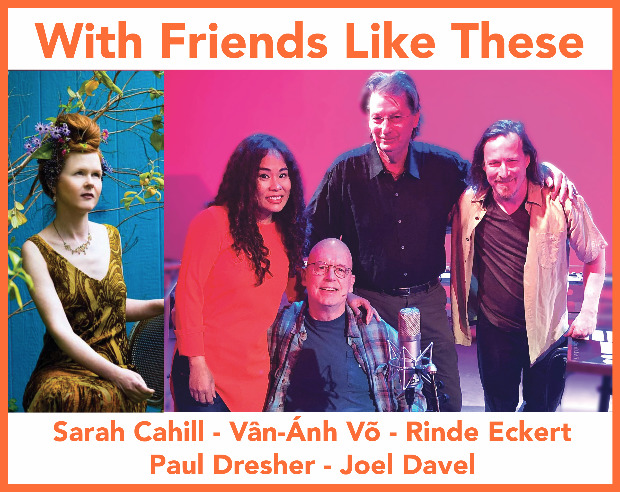 With Friends Like These — a streamed concert program featuring pianist Sarah Cahill performing Two Entwined — Paul's 2011 composition for Sarah — and improvisations with percussionist Joel Davel, long-time collaborator and singer/musician Rinde Eckert, Paul Dresher on electric guitar, Hurdy Grande and Quadrachord, and the amazing Vietnamese musician/composer Vân-Ánh Võ.
While improvisation has long been at the core of Paul's compositional practice and plays an important role in his performances with the Dresher Davel Invented Instrument Duo and in his scores for the Margaret Jenkins Dance Company, this program will feature for the first time improvisations in a concert program, with different instrumental combinations including long-time collaborator/vocalist/musician Rinde Eckert and our first performances with the traditional Vietnamese multi-instrumentalist Vân-Ánh Võ.
June 13 @ 7 pm Free Concert : Register now !!!
Since we can not yet share a live performance with you, we will stream this concert on June 13 at 7 pm consisting of four pre-recorded segments and we will follow with live Q&A/interview. Please register to receive a link to the streaming event.
The Musicians
Dresher Davel Invented Instrument Duo
Paul Dresher — Hurdy Grande, Quadrachord and electric guitar
Joel Davel — Marimba Lumina
Sarah Cahill — piano
Rinde Eckert — voice and accordion
Vân-Ánh Võ — dàn tranh, dàn bầu, and dàn t'rung
Sarah Cahill was recently called "a sterling pianist and an intrepid illuminator of the classical avant-garde" by the New York Times and "a brilliant and charismatic advocate for modern and contemporary composers" by Time Out New York. Over forty composers have dedicated works to her, including John Adams, Terry Riley, Paul Dresher, Frederic Rzewski, Pauline Oliveros, Annea Lockwood, Mary Watkins, and Ingram Marshall. Keyboard Magazine writes, "Through her inspired interpretation of works across the 20th and 21st centuries, Cahill has been instrumental in bringing to life the music of many of our greatest living composers." In 2018 she received the American Composers Forum Champion of New Music award. She is on the faculty of the San Francisco Conservatory, and her radio show, "Revolutions Per Minute," can be heard every Sunday evening from 8 to 10 pm on KALW, 91.7 FM in San Francisco.
Rinde Eckert is a writer, composer, librettist, musician, performer and director. His Opera/New Music Theatre productions have toured throughout America and to major theater festivals in Europe and Asia. With a virtuosic command of gesture, language and song, Eckert moves beyond the boundaries of what a 'play,' a 'dance piece,' an 'opera' or 'musical' might be, in the service of grappling with complex issues. Eckert describes many of his characters as "little men with big ideas whose consequences of their hubris are often disastrous."
Rinde began his career in the 1980's writing librettos for Paul Dresher (Pioneer, Power Failure, Slow Fire, Ravenshead) and performing. He composed scores for choreographers Sarah Shelton Mann and Margaret Jenkins. In 1992 he began composing and performing his own music/theater work with The Gardening of Thomas D. His works for solo performer include Becoming…Unusual: The Education of an Eclectic; the three one-act plays An Idiot Divine, Romeo Sierra Tango and Quit This House. In 2017, Rinde opened the inaugural season of Renée Fleming's Voices Series at the Kennedy Center where he premiered his recital Rin: Tales from the Life of a Troubadour. His plays have received Drama Desk Nominations, the Lucille Lortel Award. He was one of the inaugural Doris Duke Artists in 2012 and received the 2009 Alpert Award in the Arts for Theatre, a 2007 Guggenheim Fellowship, and The American Academy of Arts and Letters 2005 Marc Blitzstein Award. In 2007 Rinde Eckert was the finalist for the Pulitzer Prize in Drama.
Vân-Ánh Võ is an award-winning performer of đàn tranh (zither) and an Emmy Award-winning composer who has collaborated with Kronos Quartet, Alonzo King LINES Ballet, and Yo-Yo Ma. She also plays đàn bầu (monochord), đàn t'rung (bamboo xylophone) and many other instruments to create music that blends the unique sounds of Vietnamese instruments with other genres, and fuses deeply rooted Vietnamese musical traditions with fresh new structures and compositions.
Well trained at both the National Conservatory of Music and as an apprentice under six masters of different music genres of Vietnam, in 1995, Vân-Ánh won the Vietnam National Đàn Tranh Competition. Since settling in northern California in 2001, Vân-Ánh has collaborated with musicians across different music genres to create new works, bringing Vietnamese traditional music to a wider audience. She has presented her music at community libraries to Carnegie Hall, Kennedy Center, Lincoln Center, NPR, Houston Grand Opera, WOMAD, London Olympic Games 2012 Music Festival and the White House under President Obama. Her third CD — Three-Mountain Pass (2013) — was selected as an NPR Top 10 World Music CD.
Composer/Percussionist Joel Davel enjoys the diversity of his career, employing his classical training toward his love of adventurous new music, jazz, rock, and electronic music This includes recording credits with groups led by electronic diva Amy X Neuburg (2 albums), violinist Kaila Flexer (2 albums), jazz guitarist Jack West (4 albums), percussionist William Winant, composer Guillermo Galindo, and guitarist David Tanenbaum. Davel is best known for his work with composer-performer, Paul Dresher. Davel is one-half of the Dresher-Davel Invented Instrument Duo and a long-time member of the Dresher Ensemble Electro-Acoustic Band, an ensemble that has collaborated directly with dozens of today's most innovative composers.
Paul Dresher is an internationally active composer noted for his ability to integrate diverse musical influences into his own coherent and unique personal style that integrates his formative experience with American blues, West African drumming, North Indian classical music and the music of Java and Bali. He pursues many forms of musical expression including experimental opera/music theater, chamber and orchestral composition, live instrumental electro-acoustic music, musical instrument invention, and scores for theater and dance.
A recipient of a Guggenheim Fellowship for 2006, he has received commissions from the Library of Congress, St. Paul Chamber Orchestra, Spoleto Festival USA, the Kronos Quartet, the SF Symphony, Zeitgeist, SF Ballet, Walker Arts Center, and the Seattle Chamber Players. He has performed or had his works performed throughout the world at venues including the New York Philharmonic, LA Philharmonic, Alice Tully Hall, the Festival d'Automne in Paris, the Brooklyn Academy of Music's Next Wave Festival, and the Minnesota Opera.
The creation of With Friends Like These was made possible through the generous support of the Aaron Copland Fund, the Bernard Osher Foundation, San Francisco Grants for the Arts, and the William and Flora Hewlett Foundation and many generous individuals.
UPCOMING EVENT
The Electronic Lover : Saturday, June 26, 7 PM PDT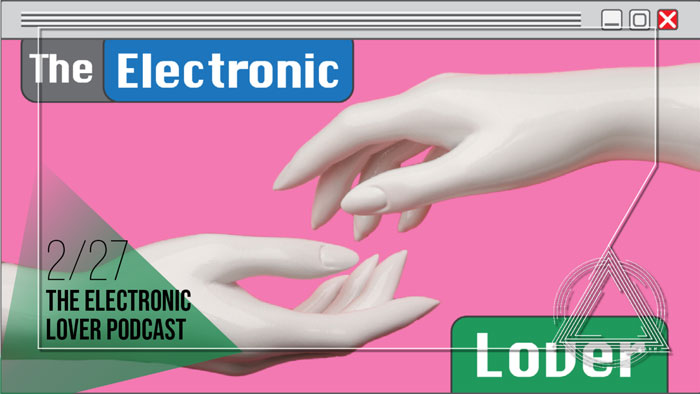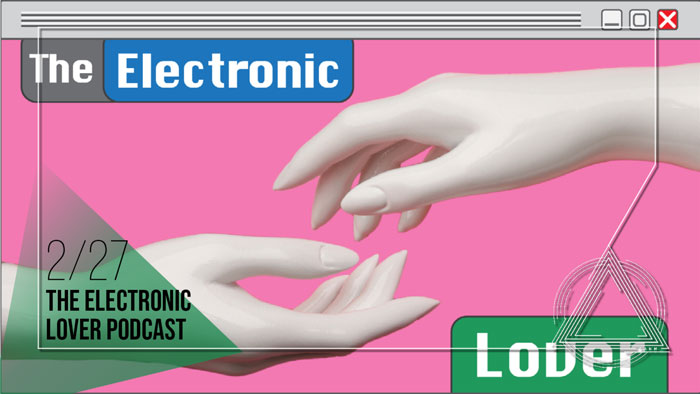 BAMPFA present the online premiere of two episodes of The Electronic Lover, a new "audio opera" by Bay Area composer Lisa Mezzacappa and New York writer Beth Lisick. The cast and creators join us for a conversation after the premiere.
The Electronic Lover is a serial audio drama set in Internet chatrooms in the early 1980s, at the moment when we first invited computers into the most intimate aspects of our lives. The cast includes six lead vocalists, a choir, an ensemble of three instrumentalists, and a narrator. Previous episodes of the series are free to listen to on all podcast platforms.
Musical Traditions' commission of The Electronic Lover was made possible by the generous support of a Gerbode Foundation Special Award in the Arts program.