Serving the Performing Arts Community
In 2020 we implemented a 5-year strategic plan that is transforming the organization into one that broadly serves the needs of the Bay Area's creative performing artists while maintaining our own creative production. We provide short and long-term rental of safe studio production space, the Dresher Ensemble Artist Residency Program, low-cost rental of sound, projection, and lighting equipment, our In Studio Performances/West Oakland Sessions performance series along with fiscal sponsorship opportunities.
From September 2020 until this past June, we partnered with the Independent Musicians Alliance to create A Safe Place To Play, providing over 400 hours of free COVID-safe studio time to over 150 musicians. In June, this program transformed into a live performance and sound and video recording program that featured concerts by six of the San Francisco Bay Area's next-generation jazz ensembles in our West Oakland Session series.
Our COVID safety protocols also allowed us to provide over 100 days of free access to the studio and our professional equipment to our Dresher Ensemble Artist Residency (DEAR) artists. We have just received a record number of applications for the 2022 residencies that will be announced in the New Year.
If you attended one of the 10 performances we produced in the studio since June, you'll have seen the results of the professional lighting system installed during the first months of COVID. This system was immediately put to use for video recording and live streaming events for the San Francisco Contemporary Music Players, Margaret Jenkins Dance Company, ROVA Saxophone Quartet,  San Francisco Chamber Orchestra, and individual musicians including Destiny Mohammed, and David James.
Continuing our support for other artists' work, a Gerbode Foundation Special Awards in the Arts enabled us to commission Lisa Mezzacappa's serialized podcast opera The Electronic Lover. Lisa has premiered four episodes and the final four will air by June 2022. That same month will also see the premiere at the SF Presidio Theater of composer Max Duykers and librettist Philip Kan Gotanda's Both Eyes Open, a chamber opera that explores trauma that Japanese-Americans experienced during their WWII internment.
In October, we were thrilled to receive a grant from the California Arts Council's Statewide & Regional Network program whose purpose is to support organizations providing essential support to the arts community. This is a powerful acknowledgment of the importance of our expanded service mission. Stay tuned in the coming months for very important updates regarding our evolution in the creation of new performance traditions.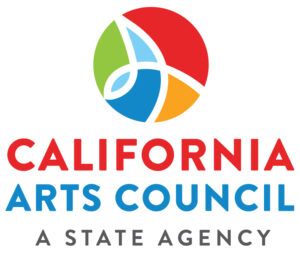 Your donation will help us continue incubating multi-disciplinary arts projects from conception and production through performance, recording, and broadcast. We are dedicated to the creation of risk-taking and challenging performing artworks and to supporting the artists that conceive them in order to engender a more equitable, inclusive, and creative community. Click to donate to our organization. Your payment will be processed by Paypal.