Dresher Ensemble Artist Residency 2023 Awards
Natasha Adorlee and Keegan Arthur Olton – Ian Erickson – Jordan Glenn with Sudhu Tewari and Christopher Farstad and Mitch Stahlmann – Conni McKenzie – Seismic Thots [grisel torres/gg- Peekaboo – Joshua Icban] – Jocelyn Reyes – Melissa Lewis Wong – Sholeh Asgary and Dena Al-Adeeb – Truc Nguyen
These residencies are taking place between Spring 2022 and Summer 2023
Natasha Adorlee and Keegan Arthur Olton The Walls Will Talk
The Walls Will Talk is an interactive performance world that the audience controls. Conceptualized by Natasha Adorlee (Concept o4) and Keegan Olton, the performers, in a contained inner world, are looked on by the audience. Written from a second-person point of view, the performance unfolds as a choose-your-own-adventure, asking the audience to play the protagonist and choose what happens next. Will our audience make choices that bring harmony or chaos to our performers' inner world? TWWT will be a multimedia performance utilizing physical theater, projection mapping, and movement-controlled sound and lights in an immersive and interactive adventure of performance art.
Ian Erickson: In Progress
In Progress is an exercise in experimentation that seeks to explore the formation of a final work from the very, very beginning to a very uncertain end. The project starts with the imagining and construction of an original instrument, and progresses toward a completed recording of original compositions shaped by the unpredictability of environment, obstacles, mistakes and successes. This project aims to offer an honest portrayal of the artistic endeavor and provide snapshots in time of the work in progress.
Jordan Glenn with Sudhu Tewari and Christopher Farstad and Mitch Stahlmann: The Party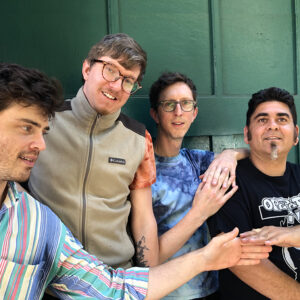 The Party is an evening-length music and video work that brings together drummer/composer Jordan Glenn's interests in conducted improvisation, composition, new instruments, and interdisciplinary collaboration. Glenn's long-standing, percussion-heavy ensemble BEAK will be at the project's core. The music will incorporate new instruments built by inventor and interactive sculpture artist, Sudhu Tewari and performed by members of the ensemble. The overall performance will be heightened with projected video feedback, as well as live and previously recorded material processed and manipulated by video artists Christopher Farstad and Mitch Stahlmann.
Conni McKenzie: Flow
Flow is an immersive exhibit and performance experience that explores how we can find and maintain states of flow in our everyday lives and in relation to our environment. This work is inspired by the mystique of natural bodies of water and their ability to move fluidly in both an organized and chaotic manner. Being in this state calls for deep intuition, intentionality, and trusting yourself to rest when it is necessary. The goal of this experience is for audiences to embody a calming trance-like state that resembles flow. Hopefully, viewers can remember this sensation and rekindle that feeling in times of disorganized chaos. This exhibit will consist of nature-inspired visuals, meditative sounds, and spaces for reflection. On select evenings, a dance performance will take place inside the exhibit to help guide reflection for audiences.
Seismic Thots [grisel torres/gg- Peekaboo – Joshua Icban]:
"Futurehood, on another time loop, everyone is a queen" is the gathering and collaboration of ancestral lineages and multiple artistic disciplines spanning from Mexico to the Philippines, honoring the ritual of creation and diasporic identity mutation through exploratory and experimental audio and visual elements. The project provides an opportunity for collaborative sound and visual composition, collective healing, and place-making for the three creative artists and witnessing audiences.
Jocelyn Reyes: ¡Ay Dios Mio!
¡Ay Dios Mio!, Spanish for 'Oh my God!', will be a new multimedia work of contemporary dance, music, and film. Informed by Reyes' personal experiences, this work will explore religion and childhood trauma within the context of Latin American culture. Reyes and her collaborators will workshop lighting ideas, experiment with soundscapes, and create new movement languages to explore the mind-boggling and destabilizing process of transforming belief systems, investigating the tension between God and atoms, Genesis and evolution, miracle and chance. How can we find ritual outside of institutions? Is there space for superstition and faith in the physical world? In the creation of this project, participants will investigate these questions with the hope to reimagine healthier ways of relating to spirituality.
Melissa Lewis Wong
"花和霧 flowers and fog" is an intergenerational performance project between Melissa Lewis Wong and her mother Joy Chenyu Lewis, which explores ancestral healing, language, and familial relationship. The residency will provide an intensive container for Melissa and Joy to experiment with the textures of their 2021 film work (video, conversation audio recordings, translation, drag, song) and develop new source materials for a live performance premiere."
Sholeh Asgary and Dena Al-Adeeb
"Crossings/ ﻟاﻣوت II" is a transdisciplinary project between Dena Al-Adeeb and Sholeh Asgary that uses the Epic of Gilgamesh as a departure point in a series of performances that seek to excavate the relationship between racialized necropolitical destruction, forced displacement, and bodies in protest across time and space through electro-acoustic invocations, expanded cinema, historical and contemporary text and poetry, Iranian and Arabic vocal traditions, and oral histories. Operating a feminist refugee-centered transnational approach, we interweave life stories, film, sound, performance, and text, widening spaces to formulate feelings, affect, gestures, and emotions in performance. With the support of DEAR, "Crossings/ ﻟاﻣوت II" will be nurtured and developed as a transdisciplinary performance that more decidedly considers the movement of our bodies.
Truc Nguyen: Ordinary People
Ordinary People is an audio-visual performance using radio techniques to tell a true story about Vietnamese refugees. Interview tapes, original music and narration are woven together into three distinct chapters. The first focuses on her father and honors those who must seek refuge in extraordinary ways. The second installment tells her mother's story. At 16, she evacuates Đà Lạt and along the way sees bizarre sights such as bodies burned by napalm, her storytelling translating the potency of intuition. In the final chapter, we find out how her father and mother eventually meet in another country, a family history dating back to WWII is revealed and a letter written to President Jimmy Carter changes the course of their lives.